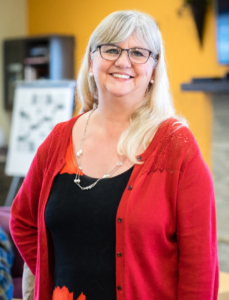 Staff Highlight – Barb Blue
Barb Blue has worked for the Day Break program since February of 1995 – 23 years! Barb started as a fill-in person, working as needed.  When a regular position became available, she moved into that job.
Around 2000, the job of Day Break Director opened. Barb remembers that when other staff asked her if she was going to apply for the job, her answer was a definite no.  She never dreamed that she would be considered to lead Day Break…who knew?!?  Anyway, Ky Dixon, who was the Executive Director at the time asked Barb if she would be interested.  The rest is history and Barb says she is forever grateful to her for the amazing opportunity and the faith she had in Barb's ability.
Barb shares that her most important contribution to the organization was and still is the development of the Day Break program. There have been many changes and accomplishments over the years.  She takes pride in the program, the awesome facility, caring staff and our place in the community.
Barb brings a love for people and a passion for games. She understands the importance of knowing each person and then providing them with fun activities and meaningful engagement.  Games are just part of her DNA and of course she likes to win!
Barb's says she is a natural caregiver and she is inspired by the ability to make a positive difference in other people's lives, while having a little fun in the process. She enjoys being a part of The Hub and everything that happens here.  Of course Bingo days are some of Barb's favorite times.  She looks forward to the interaction with everyone in the Café dining room.  She has made it her mission to learn everyone's name that plays bingo…that it a work in progress.  Barb is a good listener and is always willing to try something new or in a different way…she likes to make things happen.
Barb shares that working at Day Break has given her the opportunity to work and live the Hub's mission by Celebrating older adults on a daily basis because every day is a celebration at Day Break.  She embraces the uniqueness and beauty of each person and delights in being a part of their life.  And, she serves each individual to make their life joyful, stress free, nourishing, comfortable, safe and fun, fun, fun!
Barb takes pride in being a part of this organization. She appreciates all her co-workers in Day and the Hub as a whole.  Barb says it is an honor to be part of a great team!