Medicare Open Enrollment:
Oct. 15-Dec. 7
Easy to follow step-by-step instructions on how to use Medicare Plan Finder to find and compare plans in your area that meet your needs. This is an official Medicare video.
#GivingTuesday is December 1, 2020
From now until December 1st, we are fundraising to help older adults live healthier, fuller lives. Your contribution will make an impact, whether you donate $5 or $500. Every little bit helps. You can donate here: #GivingTuesday Fundraiser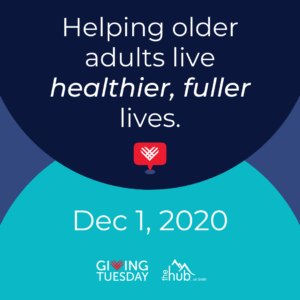 We Celebrate, Embrace and Serve Older Adults
Services for older adults, or seniors, in Sheridan County are provided by the Senior Citizen's Council, doing business as The Hub on Smith, Sheridan's Senior Center. While The Hub is and will always be a senior center, this new name better reflects the role, facilities and programs of our organization within the community.
Services provided by The Hub, while primarily focused on older adults, are in many cases available to other members of the community, either directly or indirectly. Making services available to a broader audience enriches the senior experience by creating more opportunities for interaction with the broader community, building connections across generations. It also helps to diversify and strengthen the organization financially, ensuring that we will be here to serve generations to come.
Stop into The Hub today and tap into the energy of Sheridan's vibrant senior community!
"We don't stop playing because we grow old. We grow old because we stop playing."
"You have to understand the relief it brings to see someone you care about flourish, regardless of their stage of life."
"Day Break was a life saver for our family."
"I truly have the Sheridan Senior Center's Meals and Mini Bus programs to thank for my health!"
"There are 'Seasons in Life' – You have to adjust to changes in life… the losses. Fundamentally it's a wonderful gift. Treasure and make the most of it within your capabilities."