Our two meals programs operate daily, 365 days a year!
Congregate Meals
"Congregate" essentially means coming together for a common purpose, and that's exactly what happens here when folks join us for breakfast or lunch at the Hub, Monday through Friday. Check out our Congregate Meals options here.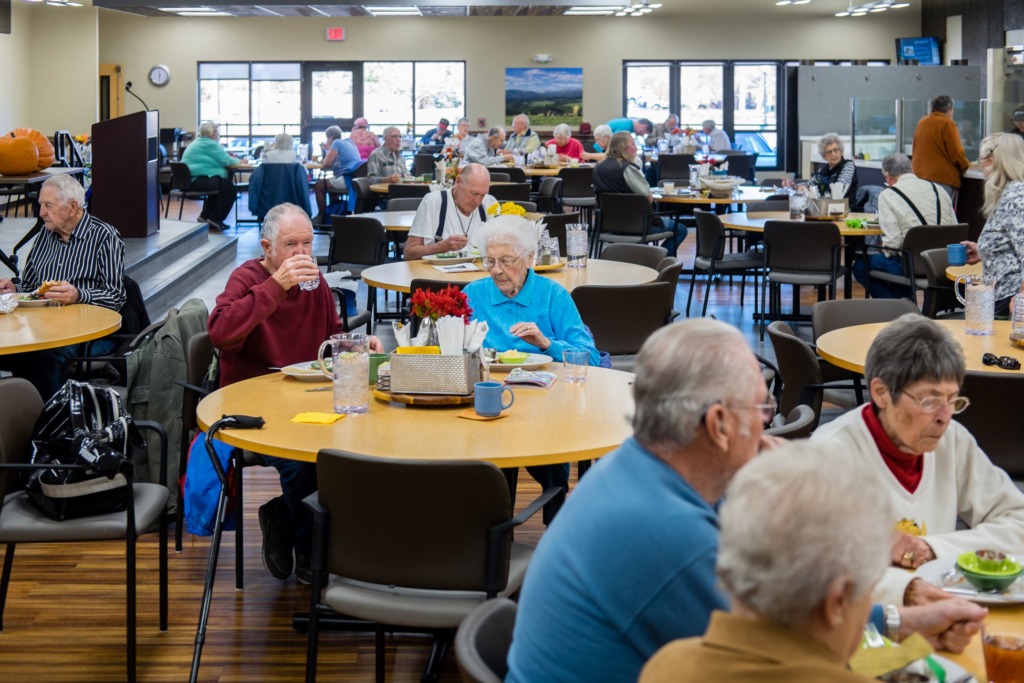 Plus, for those who like a convenient ride, many of our guests opt for our Goose Creek Transit system.
And don't worry if you have special dietary requirements – we're more than happy to accommodate them! Just reach out to our kitchen staff today at (307) 672-2240, extension #104.
Home Delivered Meals
Dedicated volunteers personally deliver Home Delivered Meals to individuals' homes every weekday, Monday through Friday. These meals are a lifeline for people who struggle to make healthy meals or have trouble reaching the grocery store.
Our dependable and compassionate volunteers make it possible to distribute nearly 200 meals each day. These delicious meals are crafted in The Hub's kitchen and serve homes throughout Sheridan County. You can expect your daily delivery between 11:00 a.m. and 12:00 p.m.
Contact our Home Delivered Meals staff for more information at (307) 672-6079
Listen to hear why Tommy and Bell from Sheridan Media enjoy delivering meals!
Suggested Meal Contribution
$6.00 for diners 60 years of age and older, and registered with The Hub.  This suggested contribution includes frozen, dine-in, and home delivered meals.
$6.00 for a spouse under the age of 60 if dining with a registered spouse (under 60 spouse must also be registered).
$10.00 for unregistered guests, and diners under 60 years of age.  Includes frozen and dine-in meals.
Our menu is consulted upon by Georgia Boley, our Registered Dietician. She is also available various days of the week in the dining room if you have any dietary questions!
You can purchase books of meal tickets at the front desk, which reduces the price of each meal! Prices are located below.
Books of Tickets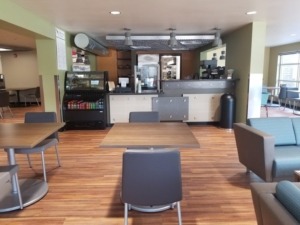 $60.00 suggested contribution for Meal Ticket Books (10 tickets per book) for those individuals who are registered and 60 years of age and older.
We also have a Grab 'N Go Cafe available to purchase meals to take home. Served from 7 a.m. to 2:00 p.m. Mon-Fri. See all the Grab 'N Go has to offer on their Facebook page!
Sheridan
In Sheridan, there are two meal sites:
The Hub
211 Smith Street, Sheridan, WY
7 days a week
11:30 am – 1:00 pm
Contact: Kevin Coleman, Executive Chef at 307-672-2240
Heritage Towers
428 N. Jefferson, Sheridan, WY
Monday through Friday
11:30 am – 12:15 pm
Contact: 307-672-6079
Tongue River Valley
Tongue River Valley Community Center
1100 Main Street, Dayton, WY
Monday through Friday
12:00 pm – 12:30 pm
Contact: 307-672-6079
Story
Story Women's Club
28 N. Piney Road, Story, WY
Tuesdays
11:30 am – 12:00 pm
Call before 1:00 p.m. on Monday to let them know you would like to dine at the Story Women's Club.
Contact: 307-683-0006
Big Horn
Big Horn Women's Club
314 S. 2nd Street, Big Horn, WY 82833
Thursdays
11:30 am – 12:00 pm
Call before noon on Wednesday to let them know you'd like to dine at the Big Horn Women's Club.
Contact: 406-465-8082